Associate Director of Student Services & First Start Coordinator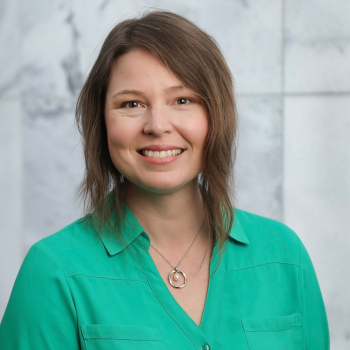 University of Georgia
School of Law
136G Hirsch Hall
Athens, GA 30602
United States
B.A., Florida State University
J.D., University of Georgia
Biographical Information
Amanda Fox joined the University of Georgia School of Law in the spring of 2017, and she currently serves as the associate director of student services and as the first start coordinator. In this latter role, she develops programming and resources to support first-generation college graduates at the School of Law. In addition, she advises all first-generation law students and the First-Generation Student Association.
Before moving into her current role, she was the law school's associate director for global practice preparation. Her portfolio included the administration of Global Externships Overseas and At-Home, the Global Governance Summer School, and other academic and research initiatives.
Previously, Fox worked in grants administration for UGA and managed externally sponsored grants and contracts awarded to the university. Prior to joining UGA, she worked for KONE Elevators and Escalators in Washington, D.C., where she oversaw new construction projects throughout the project lifecycle. This included bidding and contract negotiation as well as project management from the design phase through to manufacturing and installation.
Fox earned her Juris Doctor from UGA. While in law school, she participated in a Global Externship Overseas at the Department of Antiquities for the Kingdom of Cambodia Ministry of Culture and Fine Arts, where she researched international practices and presented proposals for the export and trade of Cambodian cultural property. She also interned at the Athens-Clarke County Attorney's Office and was an active member of the school's Business Negotiations Team, winning accolades as both a regional and national finalist during the 2012-13 ABA Law Student Division's Negotiation Competition.
Fox earned her bachelor's degree in art history from Florida State University, where she focused on Asian arts and participated in the Avant-Garde Art in Paris summer program. Before entering law school, she spent five years working as a high school English teacher in Japan, where she developed curricula emphasizing cross-cultural exchange and ran training programs designed to help non-native Japanese teachers adapt to living and teaching there. While in Japan, Fox studied Japanese law and policy at Meiji University's Law in Japan program in Tokyo.