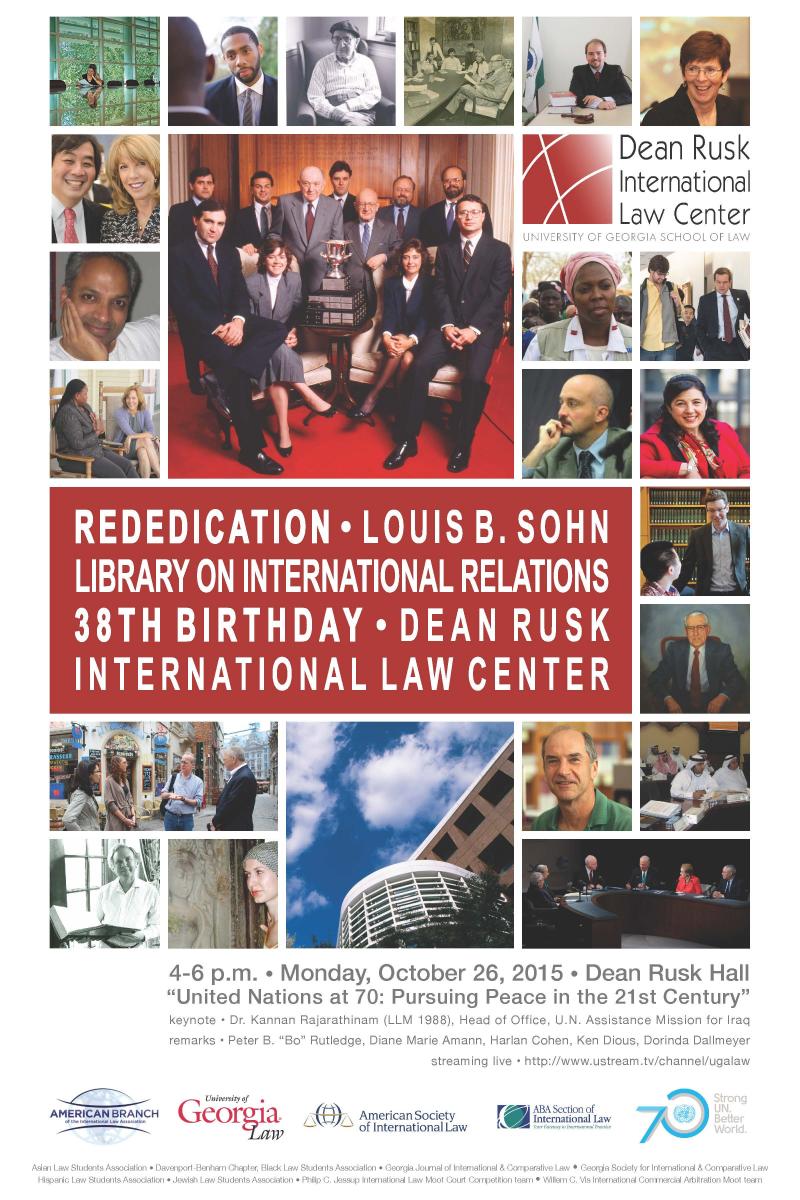 4-6 p.m. Monday, October 26, 2015
Dean Rusk Hall
University of Georgia School of Law
keynote: "United Nations at 70: Pursuing Peace in the 21st Century"
Dr. Kannan Rajarathinam (LLM 1988)
Head of Office, U.N. Assistance Mission for Iraq
remarks: Dean Peter B. "Bo" Rutledge
Associate Dean Diane Marie Amann,
Associate Professor Harlan G. Cohen
Alumnus Ken Dious (JD 1973)
Alumna Dorinda Dallmeyer (JD 1984)
honoring: Georgia Law's long tradition of excellence in international, comparative,
transnational, and foreign affairs law and policy
cosponsors: Alexander Campbell King Law Library
American Bar Association Section of International Law
American Branch of the International Law Association
American Society of International Law
Asian Law Students Association
Davenport-Benham Chapter, Black Law Students Association
Georgia Journal of International & Comparative Law
Georgia Society for International & Comparative Law
Hispanic Law Students Association
Jewish Law Students Association
Philip C. Jessup International Law Moot Court Competition team
Willem C. Vis International Commercial Arbitration Moot team
The University of Georgia School of Law will celebrate the 38th birthday of its Dean Rusk International Law Center by rededicating the Louis B. Sohn Library on International Relations in its new home in the Center's newly renovated unit.
Festivities will begin in the Larry Walker Room of Dean Rusk Hall with a keynote by Kannan Rajarathinam, a Georgia Law LL.M. alumnus who has devoted his career to working for the United Nations in conflict zones.
He and others will deliver remarks in recognition of Georgia Law professors such as: Sohn, a drafter of the U.N. Charter and the first holder of the Emily & Ernest Woodruff Chair in International Law; the Center's namesake, Dean Rusk, the former U.S. secretary of state who was a member of the faculty for more than a decade and, among many other things, served as an advisor to black law students; Sigmund Cohn, a German-Jewish judge who fled Nazism during World War II and became the law school's first teacher of international and comparative law; and Gabriel Wilner, a dispute settlement expert who mentored decades of LL.M. students.
The rededication will mark the move into the Center of the Louis B. Sohn Library on International Relations, comprising 5,000 volumes donated from Sohn's personal collection.
"The move of the Sohn Library and renovation of the Dean Rusk International Law Center underscore that international law constitutes a center of excellence at Georgia Law," said Dean Peter B. "Bo" Rutledge. "We are honored to build upon the foundation established by luminaries like Professors Rusk and Sohn. Our faculty continue to serve in institutions like the International Criminal Court and on publications like the online site of the American Journal of International Law--even as they prepare our students to serve and practice law in today's increasingly globalized world."
The celebration will conclude with a reception and tours of the Center, on the main floor of Dean Rusk Hall.