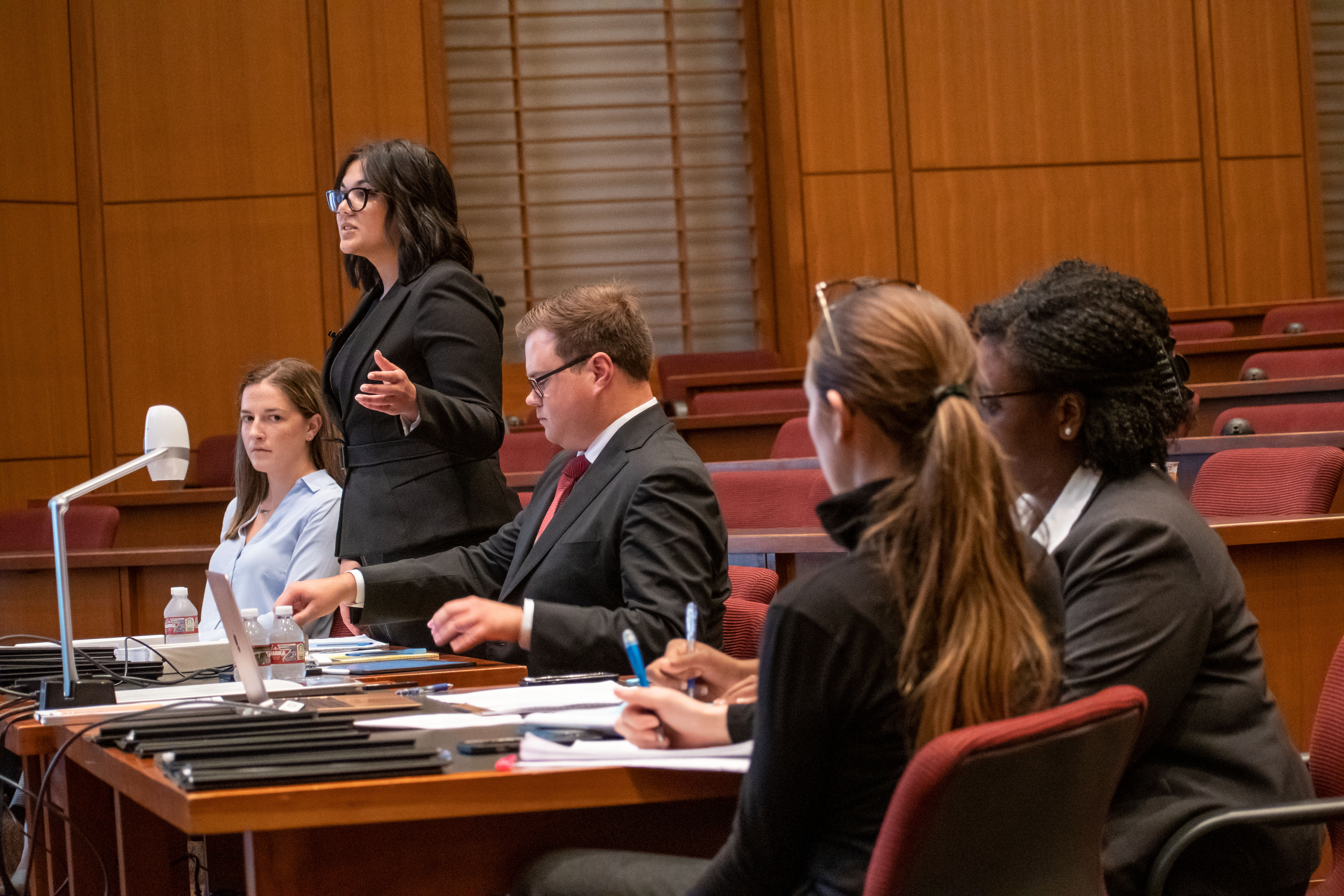 Try criminal and civil mock cases as a member of the School of Law's Mock Trial teams. Participants deliver opening statements, conduct witness examinations and present closing arguments in the presence of a judge and jury.
UGA's Mock Trial program receives strong support from faculty members and Mock Trial alumni who dedicate long hours to bench practice rounds, critique student arguments and offer suggestions for improvement. This level of support truly benefits students and helps them to develop the courtroom skills they will need during their legal careers.
Who Can Participate
Membership on the Mock Trial teams is reserved for second- and third-year year law students.
First-year students have the opportunity to participate in the J. Ralph Beaird Closing Argument Competition during the spring semester of their first year.
Winning History
School of Law Mock Trial teams have competed and won several prestigious tournaments over the past 10 years, including:
National Trial Advocacy Tournament
Champions- 2014
Quarterfinalists- 2015
American Association for Justice National Student Trial Advocacy Competition
Regionals:
Champions- 2018, 2023
Semifinalists- 2016, 2021
National Trial Competition (TYLA)
Nationals:
Quarterfinalists- 2022
Regionals:
Champions- 2014, 2022, 2023
Finalists- 2015, 2019, 2020
Semifinalists- 2013, 2016, 2017 (two teams), 2018, 2019, 2021, 2023
South Texas Mock Trial Challenge (National)
Champions- 2014, 2017, 2018, 2021
Quarterfinalists- 2013, 2019
Octofinalists- 2015, 2016, 2022
William W. Daniel National Invitational Mock Trial Competition
Champions- 2021
Finalists- 2014
Semifinalists- 2015
Buffalo-Niagara National Mock Trial Competition
Semifinalists- 2013
Quarterfinalists- 2015
Palmetto State Classic Mock Trial Competition
Finalists- 2018
Mockingbird Challenge National Trial Competition
Finalists- 2019
Top Gun National Mock Trial Competition
Champions- 2022, 2023
King of the Hill Mock Trial Competition
Quarterfinalists- 2021
Capitol City Challenge
Quarterfinalists- 2022
For a complete history of Moot Court and Mock Trial wins visit the winning reputation page.
Join Mock Trial
Learn more about the benefits of participation.
Executive Board
2021-2022 Executive Mock Trial Board

Executive Co-Chairs: Haley Kairab and Peyton Clark
Executive Vice Chair: Donavan Juleus
Secretary/Treasurer: Ben Causey
Fall Intramural Mock Trial Competition Coordinators: Audrey Cunningham and Austin Albertson
Closing Argument Coordinators: Kayla Hope and Brandon Waller
---
Related Links