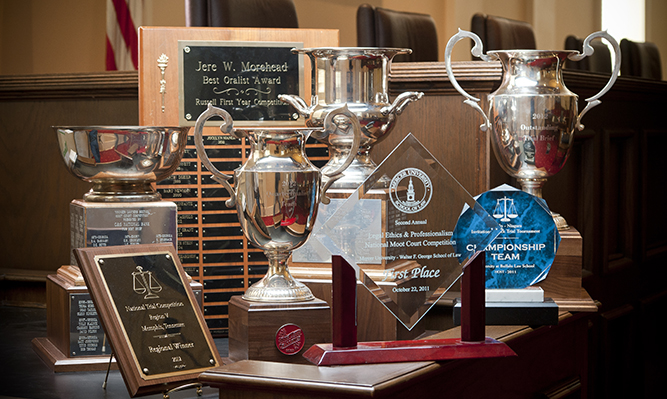 The School of Law's advocacy program dates back as early as the 1930s. During this period, mainly internal law school moot court competitions were held. The idea of intercollegiate competitions took hold in the 1950s and the School of Law fielded teams from time to time.
In 1979, UGA began competing in mock trial tournaments. In its inaugural competition, the Intrastate Mock Trial Tournament, the School of Law teams placed first and second overcoming teams from Mercer and Emory universities.
Over the years, the School of Law has compiled a rich tradition of winning. Here is an overview of the institution's impressive winning record dating back to the 1960s.
---
Moot Court
American Bar Association National Appellate Advocacy Competition
Nationals:
Finalists- 2005
Semifinalists- 2012
Quarterfinalists- 2001, 2002, 2003, 2007, 2016

Regionals:
Champions- 1977, 1984, 1988, 1991, 1992, 1995, 1997, 1998, 1999, 2000, 2001, 2002, 2003, 2005, 2007, 2012, 2013, 2016, 2023
Finalists- 1979, 1980, 1982, 1984, 1986, 1988, 1989, 1990,2001, 2002, 2003, 2004, 2005, 2022, 2023
Semifinalists- 2016, 2017, 2019, 2023
National Moot Court Competition
Nationals:
Champions- 1991-92, 1996-97, 2013-14, 2019-20
Finalists- 2012-13
Semifinalists- 1974-75, 1982-83, 1988-89, 1992-93, 1993-94, 2002-03, 2020-21, 2021-22
Quarterfinalists- 1977-78, 1979-80, 1980-81, 1981-82, 1986-87, 1995-96, 2003-04, 2005-06, 2007-08, 2009-10, 2010-11, 2017-18
Regionals:
Champions- 1967-68, 1969-70, 1973-74, 1974-75, 1976-77, 1977-78, 1979-80, 1980-81, 1982-83, 1984-85, 1986-87, 1988-89, 1991-92, 1992-93, 1993-94, 1994-95, 1995-96, 1996-97, 1997-98, 2000-01, 2001-02, 2002-03, 2003-04, 2004-05, 2009-10, 2013-14, 2019-20, 2020-21, 2021-22
Finalists- 1965-66, 1981-82, 1987-88, 1998-99, 2005-06, 2007-08, 2010-11, 2012-13, 2017-18, 2022-23
Semifinalists- 1962-63, 1963-64, 1968-69, 1983-84, 2011-12, 2015-16, 2018-19
Quarterfinalists- 2016-17

Dean Jerome Prince Memorial Evidence Competition
Champions- 2002, 2006, 2014
Finalists- 2003, 2004, 2021
Semifinalists- 2007, 2010, 2012, 2017, 2019
Quarterfinalists- 2008, 2009, 2013, 2016, 2018, 2023

Billings, Exum & Frye National Moot Court Competition
Champions- 2017
Semifinalists- 2020
Quarterfinalists- 2017, 2018

Charleston School of Law National Moot Court Competition
Champions- 2018
Semifinalists- 2018

J. Braxton Craven, Jr. Memorial Competition
Champions- 2016
Quarterfinalists- 2017

Mercer University School of Law National Legal Ethics and Professionalism Moot Court Competition
Champions- 2011, 2012 (first and second)
Finalists- 2014
Semifinalists- 2015
Quarterfinalists- 2013

Hulsey/Gambrell Moot Court Competition (GA v. FL) (formerly the Hulsey-Kimbrell Moot Court Competition)
Champions- 1984, 1986, 1988, 1989, 1990, 1991, 1993, 1994, 1995, 1996, 1997, 1999, 2000, 2001, 2002, 2003, 2007, 2008, 2010, 2012, 2014, 2015, 2018, 2019, 2020, 2021, 2022

Intrastate Moot Court Competition
Champions- 1968, 1969 (first and second), 1970, 1971, 1972, 1973, 1975, 1978, 1979, 1983, 1984, 1986 (first and second), 1987, 1988, 1989, 1990 (first and second), 1994, 2001 (first and second), 2002, 2003 (first and second), 2004, 2006, 2007, 2008 (first and second), 2009, 2010, 2011, 2012, 2013 (first and second), 2016, 2018, 2019, 2021, 2022
Finalists-1976, 1977, 1982, 1985, 1993, 2014, 2017, 2023
Semifinalists- 1999, 2000, 2009, 2014, 2015, 2016, 2017, 2019, 2023

Philip C. Jessup International Law Moot Court Competition
World Champions- 1990
World Champion Finalists- 1991
World Champion Semifinalists- 1994,1996
World Champion Quarterfinalists-1981, 2001, 2002
World Champion Octofinalists- 2022
Nationals:
Champions- 1990, 1991, 1994, 1996
Finalists- 1981, 2001, 2002, 2022
Regionals:
Champions- 1979, 1983, 1985, 1986, 1988, 1991, 1994, 1995, 1996, 2001, 2002, 2004, 2010
Finalists- 1970, 1972, 1978, 1980, 1992, 2000, 2003, 2005, 2009
Semifinalists- 1971, 1977, 1982, 1987, 1989, 1993, 1998, 1999, 2006, 2007, 2008, 2012, 2016, 2018
Quarterfinalists - 2011, 2015, 2019

Frederick Douglass Moot Court Competition
Nationals:
Finalists- 1989
Semifinalists- 1988, 2008
Quarterfinalists- 2006, 2010
Regionals:
Champions- 1988, 2008
Finalists- 1984, 1989, 1990, 2010
Semifinalists- 1986, 2006, 2010
Quarterfinalists- 2009

Emory National Civil Rights and Liberties Moot Court Competition
Champions- 2007
Finalists- 2012, 2017, 2018, 2022
Semifinalists- 2008, 2009, 2010, 2011, 2013, 2015

Jeffrey G. Miller National Environmental Law Moot Court Competition (formerly Pace Competition)
Semifinalists- 2022, 2023
Quarterfinalists- 2010, 2011

Evan A. Evans National Constitutional Law Moot Court Competition
Champions- 2010
National First Amendment Moot Court Competition
Champions- 1997, 2006, 2008, 2013
Finalists- 2001, 2004
Semifinalist- 2007
Quarterfinalists- 1999, 2000, 2002
Hunton Andrews Kurth Moot Court National Championship
Champions- 2014, 2019, 2023
Finalists- 2020, 2021
Semifinalists- 2015, 2017
Quarterfinalists- 2022
Willem C. Vis International Commercial Arbitration Moot
Notable finishes: 2010 (top 32 teams), 2011 (top 32 teams), 2012 (top 16 teams), 2014 (top 16 teams), 2016 (top 8 teams)


William B. Spong Jr. Invitational Moot Court Tournament
Champions- 1994, 1997, 2019
Finalists- 1998, 2018
Semifinalists- 1995, 1999, 2000
Quarterfinalists- 2001, 2021, 2023
National Online Moot Court Competition
Champions- 2021, 2022
Finalists- 2021
Southeastern Invitational National Moot Tournament
Champions- 2022
Finalists- 2022
Burton D. Wechsler National First Amendment Moot Court Competition
Quarterfinalists- 2021
LL.M. International Commercial & Investment Arbitration Moot Competition
Champions- 2023
---
Mock Trial

National Trial Advocacy Tournament
Champions- 2014
Quarterfinalists- 2015
American Association for Justice National Student Trial Advocacy Competition
Nationals:
Champions- 1997
Finalists- 1988
Semifinalists- 1986
Quarterfinalists- 1997, 1998, 2001
Regionals:
Champions- 1988, 1997(first and second), 1998, 2001, 2002, 2018, 2023
Finalists- 1987, 1998
Semifinalists- 2000, 2005, 2006, 2007, 2008, 2016, 2021
National Trial Competition (TYLA)
Nationals:
Semifinalists- 2009
Quarterfinalists- 2009, 2022
Regionals:
Champions- 1985 , 2006 (two teams), 2008, 2009 (two teams), 2012, 2014, 2022, 2023
Finalists- 1990, 1997, 2003, 2015, 2019, 2020
Semifinalists- 1988, 1990, 2002, 2011, 2013, 2016, 2017 (two teams), 2018, 2019, 2021, 2023
South Texas Mock Trial Challenge (National)
Champions- 2014, 2017, 2018, 2021
Quarterfinalists- 2012, 2013, 2019
Octofinalists- 2015, 2016, 2022
William W. Daniel National Invitational Mock Trial Competition
Champions- 2007, 2021
Finalists- 2014
Semifinalists- 1998, 2006, 2011, 2015
Buffalo-Niagara National Mock Trial Competition
Champions- 2011
Semifinalists- 2013
Quarterfinalists- 2015

National Criminal Justice Trial Advocacy Competition
Champions- 2003
Finalists- 1994
Semifinalists- 1995
Thurgood Marshall Mock Trial Competition (Black Law Students Association)
Nationals:
Champions- 2006
Finalists- 2003
Semifinalists- 2005
Quarterfinalists- 2009
Regionals:
Champions- 2003, 2009
Finalists- 2005, 2006
Semifinalists- 2004, 2010
Quarterfinalists- 2009

Palmetto State Classic Mock Trial Competition
Finalists- 2018
Mockingbird Challenge National Trial Competition
Finalists- 2019

Tournament of Champions
Finalists- 1997
Cathy E. Bennett National Criminal Trial Competition (NACDL)
Semifinalists- 1998
Georgetown White Collar Crime Mock Trial Invitational
Finalists- 2000, 2001
Semifinalists- 1998, 2002
King of the Hill Mock Trial Competition
Quarterfinalists- 2021
Top Gun National Mock Trial Competition
Champions- 2022, 2023
Capitol City Challenge
Quarterfinalists- 2022