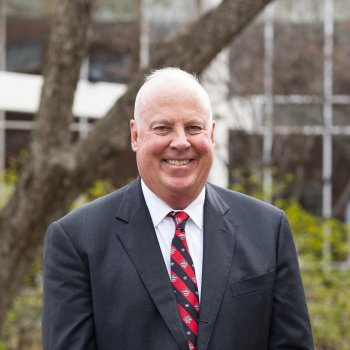 The University of Georgia Alumni Association will honor seven recipients of the 2023 Alumni Awards during an event on April 21. The annual Alumni Awards Luncheon, which began in 1936, recognizes individuals and organizations that demonstrate a commitment to UGA. The 2023 honorees are:
Sonny Perdue | Alumni Merit Award
Neal Quirk (J.D.'87) | Alumni Merit Award
Joe and Ann Frierson | Alumni Merit Award
Paige Carmichael | Faculty Service Award
Paul and Susan Holmes Family | Family of the Year Award
Jack and Nancy Fontaine Family | Friend of UGA Award
Allison Schmitt | Young Alumni Award
"The devotion of this year's award recipients to the University of Georgia is making a positive difference in the lives of countless individuals on this campus, throughout the state and around the world," said UGA President Jere W. Morehead. "They have made the University of Georgia stronger and have made all of us very proud."
2023 Alumni Merit Awards
Chancellor Sonny Perdue is the recipient of the Alumni Merit Award. The former secretary of the U.S. Department of Agriculture was named chancellor of the University System of Georgia by the Board of Regents in April 2022. As chancellor, Perdue oversees 26 public colleges and universities across the state with a $9.8 billion annual budget, 48,000 faculty and staff and more than 340,000 students. As secretary of agriculture, he helped to stabilize the food supply chain during the COVID-19 pandemic. Prior to that, he served two terms as the governor of Georgia from 2003 to 2011, reforming the state budget while Georgia faced twin recessions. From 1991 to 2001, he was a member of the Georgia Senate, representing the 18th District and serving as senate president pro tempore. As chairman of the Senate Higher Education Committee, he worked with fellow lawmakers and Gov. Zell Miller to craft the HOPE Scholarship, one of the most innovative and successful higher education programs in the nation. Perdue earned his doctorate in veterinary medicine from UGA in 1971.
Neal J. Quirk Sr. is a partner and member of Quirk & Quirk LLC, a legal firm serving clients throughout Georgia. A registered mediator and arbitrator, Quirk holds an AV Preeminent rating—the highest rating available for legal ability and ethical standards for attorneys—based on peer review and serves as a Special Master on case appointments. In 2012, Quirk was elected to the board of trustees of the University of Georgia Foundation, where he now serves as chairman. UGA achieved its largest and most successful fundraising year in history during his tenure in this role. Quirk has been a steadfast supporter of the university's Jere W. Morehead Honors College, serving on the advisory board for 12 years. In 2008, he received the Jere W. Morehead Award in recognition of his commitment to Honors students, and in 2018, he received the Blue Key Honor Society Award for his extraordinary contributions to UGA. Quirk graduated from UGA with a Bachelor of Business Administration in finance in 1982. Five years later, he earned his Juris Doctor from the UGA School of Law.
Joe and Ann Frierson are longtime pillars of the UGA community. The couple has been recognized multiple times for their ongoing commitment to the university. In 2015, they received the Jere W. Morehead Award for their distinguished service to and support of the Morehead Honors College. They also were named Distinguished Honorees by the State Botanical Garden of Georgia in 2016. Both are Friends of the Georgia Museum of Art and staunch supporters of UGA's study abroad program in Cortona, Italy. For more than 50 years, Joe has worked at Merrill Lynch, Pierce, Fenner & Smith Inc., where he is managing partner and founder of the Frierson Group. His professional experience has guided his engagement with and support of the university, including his service as a trustee of the UGA Foundation from 2001 through 2014. Ann is active in the Athens community through her memberships in the Athens Junior League and the Junior Ladies Garden Club. She served as president of the Garden Club of America from 2001 to 2003. She served on the board of the Center for Plant Conservation, a network of over 70 plant institutions that work to save endangered and native plants. She is a charter member of the Dean's Advisory Council for the College of Environment and Design, and she has been a member of the State Botanical Garden of Georgia board of advisers for 34 years. Joe earned his bachelor's degree in political science from UGA in 1966, while Ann received her bachelor's degree in sociology from the university in 1965.
2023 Faculty Service Award
Dr. K. Paige Carmichael, a professor of veterinary pathology and former associate dean for academic affairs in UGA's College of Veterinary Medicine, is an innovative educator and student advocate. Her research on inherited neurological diseases in dogs has led to the development of a test for globoid cell leukodystrophy in Irish setters and mucopolysaccharidosis IIIA in wire-haired dachshunds. Her work extends to the investigation of potential therapeutics and treatments for these conditions as well. Carmichael co-founded and continues to lead the UGA Teaching Academy Fellows Program. She is the recipient of the Josiah Meigs Distinguished Teaching Professorship, UGA's highest award for teaching. Among her additional honors are the Lilly Teaching Fellowship, the Carl Norden-Pfizer Distinguished Teaching Award, the Tyler Award for Teaching Innovation, the Iverson Bell Award, the Dawn D. Bennett Alexander Inclusive Community Award and UGA's Fulfilling the Dream Award. After earning her doctorate in veterinary medicine from Tuskegee University in 1987, she earned her doctorate in veterinary pathology from UGA, becoming a board-certified pathologist in 1995.
2023 Family of the Year Award
The Paul and Susan Holmes family, both immediate and extended, has been a fixture at UGA for nearly a century, with four generations of alumni and a commitment to serving others in Athens and beyond. John Paul Holmes Jr. built his name on the gridiron as a three-year letterman at UGA before graduating in 1963 and playing for the NFL's Dallas Cowboys and Denver Broncos. Susan graduated with a bachelor's degree in 1963. Paul and Susan drew from their experiences and education at UGA to fuel their professional and civic endeavors. Paul served as the chairman of the Georgia Chamber of Commerce and was chair of the Technical College System of Georgia. Susan found her calling in public service, serving as mayor of Monticello and a member of the Georgia House of Representatives for 24 years. As mayor, she worked with members of UGA's Carl Vinson Institute of Government to help her town receive assistance with business development, historic preservation, leadership classes, environmental design and more. Susan and Paul's three children—John Paul III, Sam and their late daughter, Cammie—all found a home at UGA. In 1986, John Paul III married fellow UGA graduate Lou Sims Holmes. Sam currently serves on the Board of Regents of the University System of Georgia and is an emeritus trustee of the UGA Foundation. He and his wife, Lara, are both proud UGA alumni.
2023 Friend of UGA Award
Jack and Nancy Fontaine founded the John Fontaine Jr. Center for Alcohol Awareness and Education at UGA in 2006. Housed within the University Health Center, it focuses on prevention, early intervention and recovery support for issues related to alcohol and other drugs. The Fontaines established the center in memory of their son John Fontaine Jr., who was killed in a car accident while riding with a friend who had been drinking. Jack endured his own problems with alcohol, acknowledging that his participation in a problematic drinking culture on campus ultimately led him to abandon his studies at UGA in the 1970s. Fueled by these difficult personal experiences, Jack and Nancy sought to make a difference by helping to improve the culture on campus. To do so, the Fontaine family donated more than $4 million to enhance and expand the university's alcohol education initiatives. Today, the center offers many services for students, including alcohol and substance abuse prevention programming, relationship and sexual violence prevention services and other online and in-person support. Jack and Nancy met in 1980 when the former was working for the Coca-Cola Bottling Company. Their second son, Harris, graduated from UGA in 2011, while their daughter, Elizabeth, graduated in 2013.
2023 Young Alumni Award
Allison Schmitt, a former UGA student-athlete, is the most accomplished woman in the history of United States swimming. She is only the fourth American female swimmer to qualify for and compete in four different Olympic Games. Schmitt is a 10-time Olympic medalist and the current American record holder in the 200-meter freestyle, which she has held since 2009. Her most decorated performance came during the 2012 London Olympic Games, when she won three golds, a silver and a bronze. Schmitt accrued five other medals—one gold, two silver and two bronze—across the 2020, 2016 and 2008 Games. Following the death of her cousin by suicide, Schmitt began to leverage her platform to share about her own battles with depression, using her experience to support others and ensure they never felt alone. Schmitt's desire to help others led her to pursue a master's degree in social work at Arizona State University. She is expected to graduate in May, 10 years after earning her bachelor's in psychology from UGA. She intends to use her degrees, experiences and skills to empower others to overcome personal battles and help them in their journeys.
"This year's recipients are campus, community and business leaders whose outstanding loyalty and support serve as an inspiration to us all," said Meredith Gurley Johnson, executive director of the Alumni Association. "They embody the best of UGA, and it is our honor to recognize them today."
To learn more about these awards and past honorees, visit alumni.uga.edu/alumniawards.
Written by UGA Marketing and Communications' Danielle Bezila