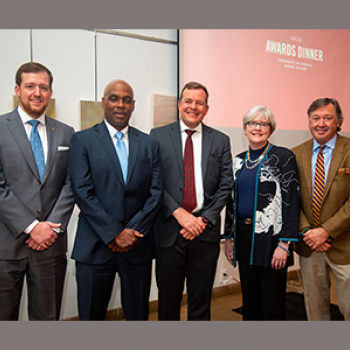 The University of Georgia School of Law honored four individuals for their service during the school's recent Awards Dinner at the State Botanical Gardens of Georgia.
Law school graduates Nancy E. Rafuse, Gregory L. "Greg" Roseboro and Marlan Wilbanks received the law school alumni/alumnae association's highest honor – the Distinguished Service Scroll Award – for their outstanding dedication and service to the legal profession and the law school. Additionally, David Dove was presented with the Young Alumni/Alumnae of Excellence Award.
Rafuse, a 1991 alumna, currently serves as a counselor in residence at the School of Law teaching the courses Employment Discrimination, and Wage-and-Hour Law and Litigation. She practiced employment law for approximately 30 years, most recently as an equity partner at Seyfarth Shaw in Atlanta, where her national labor and employment practice included Fortune 100 clients and large private employers. She also worked at the law firm Polsinelli from 2014 to 2019, during which time she opened the firm's Atlanta office in 2014 and managed it for three years. In her last two years at Polsinelli, she served as the firm's labor and employment department chair and represented clients in high profile class and collective actions. Rafuse is currently a member of the law school's Board of Visitors.
Roseboro is a former assistant dean and an adjunct professor at the School of Law, where he teaches the course Race and the Law. A 1987 graduate, Roseboro worked for nearly 30 years in admissions at the law school, most recently serving as assistant dean for admissions, diversity and inclusion & strategic initiatives. His work in the area of diversity and inclusion involved liaising with faculty, staff, students and alumni/alumnae. He also served as an adviser for student organizations including the Davenport-Benham Black Law Students Association, the Asian Law Students Association, the Hispanic Law Students Association and OUTLaw. Roseboro joined the law school's staff in 1994 as assistant director of admissions, student affairs and legal career services, and he was promoted to associate director of admissions in 2000.
Wilbanks, a 1986 alumnus, has for more than 25 years specialized in representing whistleblowers who file lawsuits when taxpayers have been defrauded by individuals or large corporations. As a practicing attorney in Atlanta with Wilbanks & Gouinlock, he has recovered more than $2 billion. In recognition of this work, he has been named National Lawyer of the Year and, in 2022, was awarded the Lifetime Achievement Award by the Taxpayers Against Fraud, which is the largest body of its kind in the United States. Wilbanks is very active in numerous organizations dedicated to protecting and representing abused children. He founded the Wilbanks Child Endangerment and Sexual Exploitation Clinic at the School of Law – the first of its kind in the nation. He also currently serves as the chairman of the law school's Board of Visitors.
Dove, a 2014 graduate of the law school, currently serves as Gov. Brian Kemp's executive counsel. In this role, he has worked with the Attorney General's office to secure landmark victories in the Tri-State Water Wars and has marshaled Kemp's appointments, resulting in the most diverse group of judicial appointments in Georgia history. He also has worked with Kemp to increase the representation of women and minorities on executive branch boards and commissions. Additionally, he serves as one of four Georgia commissioners for the Uniform Law Commission. Previously, Dove was the director of Kemp's gubernatorial transition committee and worked as an attorney with Robbins Alloy Belinfante Littlefield. He currently serves as vice chairman of UGA's School of Public & International Affairs' Alumni Board and is also a member of the Law School Alumni Council.