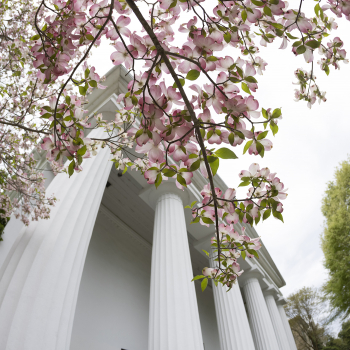 Twenty-seven University of Georgia students, faculty and staff members who have died since April 2022 - including two members of the School of Law community - will be honored at the university's annual candlelight memorial service on May 2 at 7 p.m. on the steps of the UGA Chapel.
President Jere W. Morehead will lead the service. Names of each of the 11 students and 16 faculty and staff members will be read aloud, followed by a toll of the Chapel bell and the lighting of a candle.
Names will be read by Savannah Hembree, president of the UGA Staff Council; George Moore, president of the Student Government Association; and Luke Naeher, chair of the University Council Executive Committee. Members of the Arch Society will light candles as each name is read.
Members of the university community and the public are invited to attend. In the event of inclement weather, the event will be moved inside the Chapel.
Students whose names will be read, along with their hometowns and the areas of study they were pursuing, are:
Conner Barkie, a fourth-year undergraduate from Cumming, Georgia, majoring in psychology
Beth Buchanan, a doctoral student from Fresno, California, majoring in psychology
Ethan Caldwell, a fourth-year undergraduate from Carrollton, Georgia, majoring in risk management and insurance
Matthew Campbell, an incoming transfer student from Jasper, Georgia, and an intended major in management
Hannah Folsom, a first-year undergraduate from Warner Robins, Georgia, majoring in international affairs
Eun Jung, a doctoral student from Daegu, South Korea, majoring in mathematics education
Molly Ridley McKie, a fourth-year undergraduate from Athens, Georgia, majoring in biology
McAuley Millen, a second-year undergraduate student from Charlotte, North Carolina, majoring in psychology
Ellen Scott, a second-year law student from Houston, Texas
Caleb Thompson, a third-year law student from Harrisburg, Pennsylvania
Devin Willock, a third-year undergraduate student from New Milford, New Jersey, majoring in sport management
Faculty and staff whose names will be read, along with the positions they held, are:
Angela Avery, laboratory technician, College of Veterinary Medicine
Safije Bakalli, laboratory technician, College of Veterinary Medicine
Kathy Bolt, academic advisor, Franklin College of Arts & Sciences
Orlando Daniel, temporary food service worker, Auxiliary Services – Dining Services
Douglas Dvoracek, researcher, Center for Applied Isotope Studies
Catrina Dygert, office assistant, College of Family and Consumer Sciences
Andre Farley, food service worker, Rock Eagle 4-H Center
Keith Fowler, computer operations technician II, EITS – Data Center Operations
Angela Hall, temporary faculty, Women's Studies Institute
Sally Hoover, office assistant, Southwest District – Cooperative Extension
Marc van Iersel, professor, Department of Horticulture
Shigeru Koyama, chef, Georgia Center for Continuing Education
Kendra Lawrence, senior associate director of admissions, Office of Admissions
Chandler LeCroy, recruiting analyst, Athletic Association
Michael Thomas, plumber, Facilities Management Division
Andrew Williams, grounds foreman, Coastal Georgia Botanical Gardens
The candlelight memorial service is coordinated by UGA Well-being Resources, a campus-wide initiative led by UGA Student Affairs.