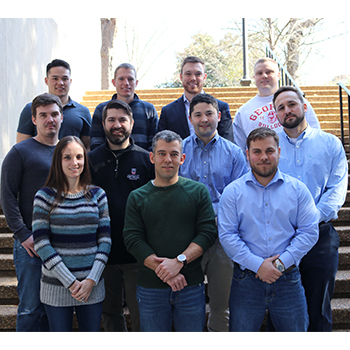 The John N. Goddard Foundation has made a gift to support the University of Georgia School of Law's veterans. This money will help these former military members with bar preparation expenses, professional attire, summer work grants, books and other special costs incurred while earning their law degrees.
Two years ago, The John N. Goddard Foundation voted unanimously to support U.S. active military and veterans' organizations by allocating a portion of its annual giving, according to Jimmy Cushman, the foundation's chairman. "This initiative shows appreciation and gratitude for the men and women who serve our country. We recently awarded this grant to support Dean Rutledge's newly created fund designated to support veterans earning a law degree and being employed thereafter debt free. We are honored to be a part of this effort," Cushman concluded.
School of Law Dean Peter B. "Bo" Rutledge said he wanted to thank The Goddard Foundation for its ongoing partnership with the law school. "This latest donation will provide important funding for those 'other' professional development expenses necessary for successful entry into the legal profession. It comes on the heels of transformational gifts to create Distinguished Law Fellowships named for Robert G. Edge and the late Philip H. Alston, Jr."
This builds on the law school's other commitments to veterans. Since 2019, the Butler Commitment, backed by 1977 alumnus James E. "Jim" Butler Jr., has guaranteed financial assistance to 100% of veterans who matriculate.
Additionally, the Veterans Legal Clinic, kickstarted by Jim and other Columbus-based graduates, provides free legal services for veterans suffering from post-traumatic stress disorder or traumatic brain injury. Since opening its doors five years ago, the clinic has helped roughly 700 veterans and their families claim more than $2 million in benefits. 
"The School of Law is currently redefining what it means to be a great national public law school," Rutledge said. "By offering a world-class, hands-on, purpose-driven educational experience – like those found in the Veterans Legal Clinic – and a pioneering commitment to accessibility and affordability – like defraying professional development costs – we are helping to produce the next generation of legal leaders for state and society."