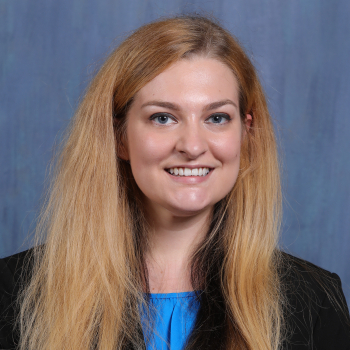 The School of Law regretfully shares the news that Ellen E. Scott, a member of the Class of 2023, passed away last week on May 29, 2022.   
In these moments, we must find ways to grieve. Ellen was our classmate, our colleague, our student, and our friend. She was the daughter and sister of a grieving family.  If you are feeling sadness, pain, or confusion, please know that those are all natural responses.    
In times of grief, it helps when we can come together. Although summer plans and distance may make that harder, for those of you still in the area, funeral services will be June 12, 2022, in the Hillcrest Chapel of the Acree-Davis Funeral Home in Toccoa. 
For those of you not in the area, let me encourage you to reach out to loved ones, friends, your support network, or anyone here at the Law School. The Dean's Office will also serve as a gathering point for sympathy messages that you may wish to send to the family.   
The University's Counseling & Psychiatric Service (CAPS) Clinic is also available, and we encourage any student who would like to take advantage of their services to do so, either in-person or virtually.  CAPS can be reached by phone at 706-542-2273 and students can call or walk-in to CAPS during business hours (Monday – Friday, 8am – 5pm) to speak with a clinician.  Students can also contact CAPS via phone for 24/7 support as needed. 
In addition to CAPS clinicians being available at the Health Center throughout the week, Dr. Erin Higgenbotham (the law school's clinician through CAPS) will be on-site at the law school on Tuesday, June 7.  Her office is located at 313B Rusk Hall.  She will provide in-person and virtual hours for our law school community from 11am – 5pm.  Please feel free to drop by her office during that time frame or access the virtual option (link below). 
Grieving the death of a friend or loved one like Ellen can be counted among the hardest moments of our lives. We wish that we could spare you this news and the attendant suffering. All we can do in these moments is to be transparent and to support each other in this time of sadness. 
She is survived by her parents, Mark Randall Scott and Angela Reece Scott of Spartanburg, South Carolina; brother Thomas E. Scott (Rhian) of Lansing, Michigan; grandparents Randall and Carolyn Scott of Carnesville, Georgia; and grandparents Ernest and Betty Reece of Easley, South Carolina. 
Memorial gifts may be made to the University of Georgia Foundation for the Law Student Leap of Faith Fund in memory of Ellen Scott, University of Georgia School of Law, 225 Herty Drive, Athens, GA 30602-6012.